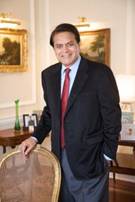 Mr. Satish Kumar Modi


Satish Kumar Modi, Chairman, Modi Global Enterprises, Ambassador for Philanthropy.
'I feel that real philanthropy is to enable the disadvantaged to earn a decent living' – Satish K Modi
The chairman of Modi Global Enterprises, Satish Kumar Modi, is part of a family and a business that plays a leading role in India and, increasingly, around the world. His father, the late Rai Bahadur Gujar Mal Modi, established the Modi Group of Industries and, in 1933, established the industrial township of Modinagar, which now has a population of half a million people. The group has a turnover of about US$1.2 billion. The Modi Group has interests in many products and services, from textiles & fashion, chemicals and telecommunications to medicines, property development, air transport, finance and automotive parts, as well as links with a range of global companies and their brands.
Satish Kumar Modi started India 's first private airline, ModiLuft in partnership with Lufthansa and is credited with re-launching this airline as SpiceJet.
In collaboration with Lenzing, Austria, S.K. Modi is currently setting up the world's largest Viscose Staple Fibre Plant of 240,000 tons per annum capacity at Patalganga near Mumbai. He is the Chairman of this mega project – Lenzing Modi Fibers India Pvt. Ltd.
Beyond business success, Satish Modi has maintained the legacy of his philanthropist parents by supporting a range of charities, educational institutions and the arts. His Foundation runs the programme, 'Right to Education' which provides subsidized/free education to four thousand underprivileged children in India. The philanthropic project, 'A Stitch in Time' is an initiative to empower women. This has enabled thousands of women to earn their livelihood respectfully.
Satish Modi is President and Managing Trustee of the Shree Durga Charitable Society, which owns and manages the Laxmi Narayan Temple at Modinagar, popularly known as 'Modi Temple', and, for the comfort of pilgrims, has Dharamshalas in various places in North India, including Haridwar, Kedarnath, Mathura, Vrindavan, Jwalamukhi and Badrinath. Being a champion of peace, Satish Modi is planning to establish an inter-faith spiritual centre in Modinagar soon.
Satish Modi is President of the Dayawati Modi Foundation for Art, Culture and Education. Mother Teresa was one of the first to receive its annual award. His Holiness the Dalai Lama received the Dayawati Modi Award for Art, Culture and Education in 2011.
He is also President of the G.M. Modi Science Foundation that promotes Science and Technology in India and has instituted the prestigious annual G.M. Modi Science Award. Among the recipients is Dr. A.P.J. Abdul Kalam, former President of India.
In May 2000 Satish Modi and his wife Abha established the International Institute of Fine Arts (www.iifaindia.org) to provide quality education to students in the fields of art and creative design. Currently, IIFA has over 450 students studying degree courses in Fashion Design, Textile Design, Painting and Applied Art. Under Satish Modi's leadership, the college, today, has become a premier institution in the country with established alliances with schools around the world.
IIFA is partnered with two UK-based institutions – the Royal Drawing School (President: HRH the Prince of Wales) and the University of the Arts London. Both organisations are global leaders in their field and regularly send teachers and students on teaching assignments to IIFA every year. IIFA also has an MoU with the largest arts university in Switzerland, the Zurich University of the Arts (ZHdK). The present Animation Department at IIFA is being expanded into the Institute of New Media Design, in association with the Zurich University of the Arts (ZHdK), Switzerland. This will be a landmark institute offering a range of disciplines in New Media.
In collaboration with Times Foundation & Tao Art Gallery, Mumbai, IIFA produced an innovative art show on CNBC India called "The IIFA Art Show". Conceptualized and created by Mr. Satish Modi, the show was a unique programme in itself, with both performing as well as visual artists coming together on television. Some of the eminent artists who participated in the show included Mr. S.H. Raza, Mr. Krishan Khanna, Mr. Akbar Padamsee, Ms. Anjolie Ela Menon and Mr. Satish Gujral.
One of Satish Modi's aims has been to draw international audience to recognize Indian artists and consider the fine nuances of Indian art. Under his leadership, IIFA has organized several art exhibitions at various venues around the globe, including the Tate Britain, London; Chelsea College of Art and Design, London; Chapel Gallery, Singapore, the House of Lords, London and the New York Academy of Art, New York. On the invitation by the United Nations, IIFA held an exhibition of contemporary Indian art, 'Indiart for the Power of Peace', at UNESCO's Global Forum on the 'Power of Peace' at Bali, Indonesia in January 2007. IIFA was also invited by the governments of Japan and India to organize an exhibition of contemporary Indian art, celebrating the 60th anniversary of the Indo-Japan Friendship Year in 2007.
Satish Modi has written a book entitled, 'In Love with Death'. The aim of this book is to help people overcome their fear of dying, to make them look at death positively, motivating them to live their lives filled with goodness, love and compassion. The book, published by Birlinn Limited, was released in May 2014.
Satish Modi was invited to deliver a talk on education at the 'Partnering for Global Impact' conference, held at Lugano, Switzerland in July 2012.
For his services to the nation, Satish Modi has received a number of awards and honours including the Vijaya Ratna Award, the National Unity Award, Gem of India Award, the Rajiv Gandhi Medal of Merit and the Philanthropist Award by the Indian National Overseas Congress.
Satish Modi is Fellow of the Royal Society of Arts, London. He was appointed an 'Ambassador for Philanthropy' by the UK's Founding Ambassador for Philanthropy, Dame Stephanie Shirley, in recognition of his philanthropy in India and role as an advocate to others. In 2010, he was nominated for an Arts & Business Prince of Wales Medal for Arts Philanthropy. He was also presented the World Peace Tartan in Edinburgh in 2012. In November, 2015, Satish Modi was honoured with the Tara Award by Venerable Mae Chee Sansanee Sthirasuta, Founder of Sathira-Dhammasathan, Bangkok.